Our Mission:
Hi, Rolland Riives here, to help you with your solar hot water. I've been tinkering with Solar Hot Water for the last fifteen years and I think I have something that works. I'm looking to freely share the knowledge with you, and help you avoid the mistakes I've made along the way. Together we can get your system going. I can't fix all the world's problems, but this is what I'm doing to reduce carbon emissions and lessen global warming. Even if you don't think the world is heating up or that it's an issue, DIY solar hot water is a great way to have fun and reduce your energy costs.

If you don't want to DIY it, there are professional systems available too, that information is available here, or you can call or email me, and I'll be happy to help you out.
All the plans and instructions on this site are available for free, but donations to help us spread the word and keep the site running are gladly accepted. If you so choose, we're an officially recognized 501(c)(3) charitable organization by the IRS, and any such donations are fully tax deductible; check with your accountant for details.
More Photos on Facebook. Friend me on facebook (mention you're interested in Solar Hot Water) and you can see many more photos of guilt free hot water. Solar Hot Water can be very dangerous as you are dealing with hot temperatures and high pressure.
By downloading or using the ideas, information, calculations, or plans on this website you hold Rolland Riives/Guilt Free Hot Water, his family, friends, harmless from any damages or injuries that might result from errors, omissions or just plain bad design. It is your responsibility to make sure that any project you undertake is safe and effective for your situation. Do your own research for proper permits and local codes.
System is doing 300% better than efficient homes:
Solar Collectors for sale:
For sale I have many brand new in box 30 Tube Water Heater Collectors with Stand in 70 and 55 degree angles. Best price compared to any competitors. Others are double.
1) Designed for commercial solar water heating applications
2) Reliable and efficient with twin-glass solar tubes
3) Polyurethane insulation ensures good heating performance and minimal heat loss
4) Manifold cover's material: stainless steel or galvanized sheet
5) Frame material: 1.2mm thick all stainless steel
6) Easy plug-in installation
7) Can be connected in series to increase water heating capacity
German technology and reliability. Best kind 3 target lifetime is 25-years.
I know I said I had nothing to sell but this is practically near my cost and this is what I'm doing to fight climate change. Hard to get products, high end, high quality, top of the line, evacuated tubes. I'll sell the things that are hard to get to make them more readily available for others.
To purchase contact me or visit the ad here: guilt.free.hw@gmail.com
Price: $800
Check out our new flyer:
Video Tour:
If you want to view all of my Solar hot Water Videos press here.
Now on TikTok!
Evacuated Tubes:
I bought my last shipment of evacuated tubes directly from 1st Sunflower Renewable Energy. I dealt with Deo and I highly recommend them as they are high quality and Deo is a great sales representative to deal with.
The larger evacuated tubes I use in my solar hot water system are made by Micoe and the smaller units are by Sunrain. The sunrain ones are cheaper than the Micoes by about a hundred dollars and are just as good as the Micoes.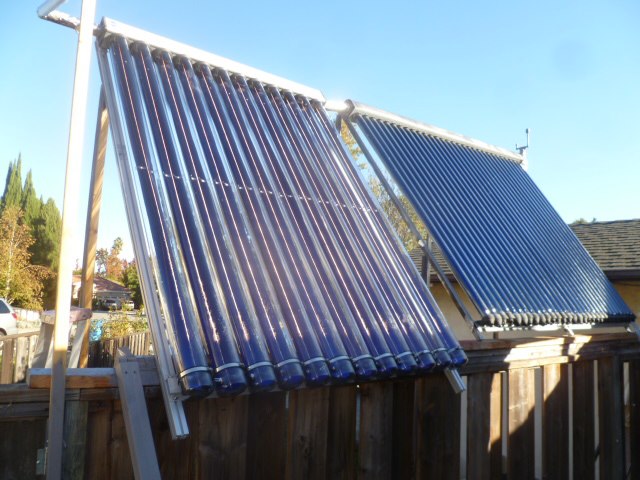 Homemade Flat Plate:
These photos are of a flat plate that I made in order to collect heat from the sun. This is how I get the heat that makes the bulk of the heat for my solar hot water system.
For the Polycarbonate Roofing Panels make sure they are clear and order Palram Suntuf. You can order some here directly from Home Depot. I recommend getting the larger size Item 101728-16'x49.6″ which you can special order this at the Pro Desk at any Home Depot store.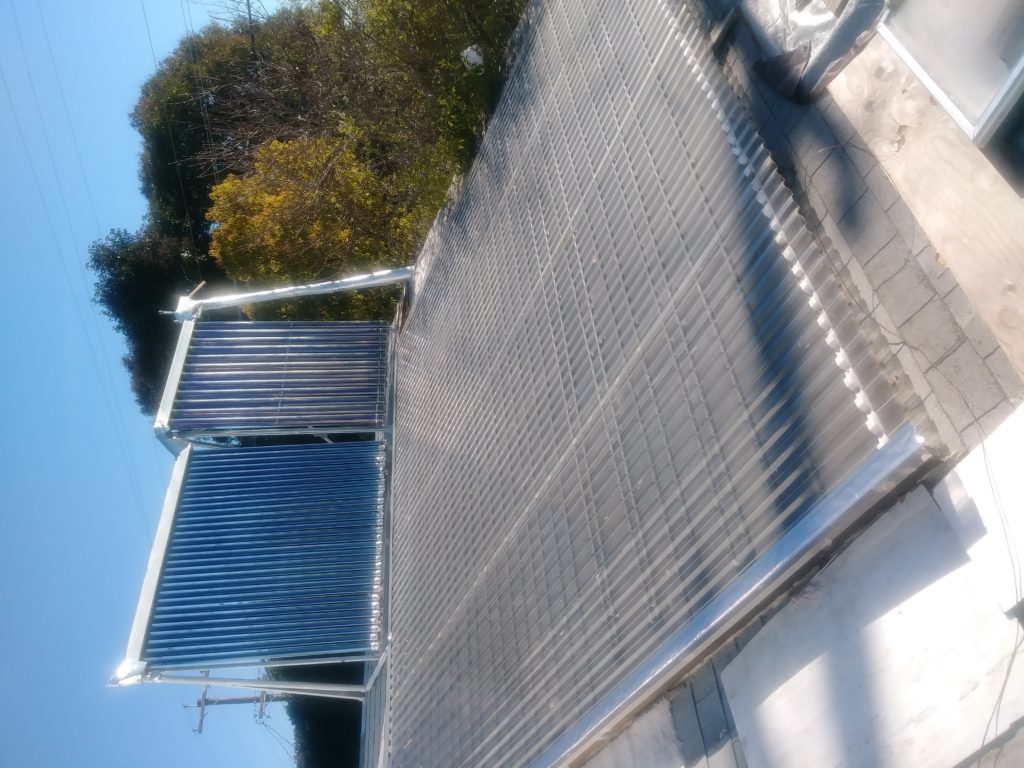 Topsflo Pump:
New And Improved! I found a better pump called the TL-C01-C24-2411. Specifications are: 48 Watts, 160 Farenheight, 20 Feet of head, 20 Liters/min of flow. This one is also made by topsflo and can be used underwater. I'm still testing this one to see if it's better than the TD5 but for the moment I really like it. You can still use this with the same Grape Solar Panel from Home Depot but the voltage is a little lower yet it still can power the pump. There also exists the TL-C01/S/PV that comes with a five-foot cord to be used deep in a pool if you need that. You can buy one here.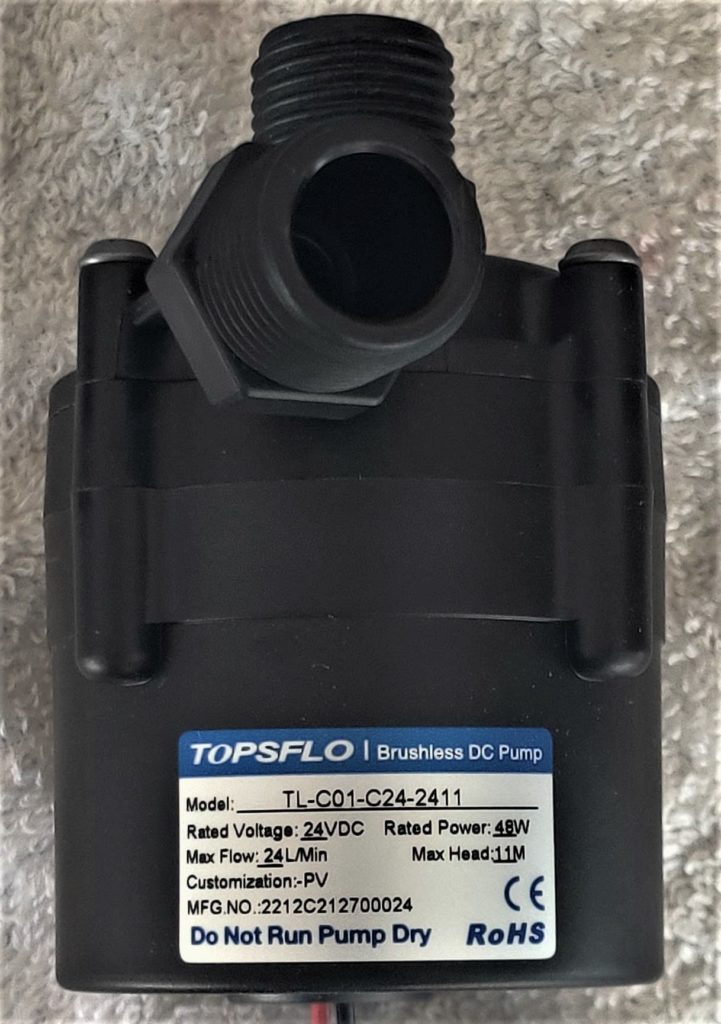 These are a couple photos of my favorite water pump brand and pump. Make sure to get the TD5 and NOT the TS5 as the TS5 is good for inside loops but for the main pump powered by solar it is too weak and you want the TD5. They're 20 volts DC and are what I use currently in my solar hot water system. You can buy one here for $140.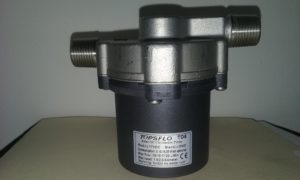 Grape Solar 50W Panel:
All that's required to power the pump is a 50W solar panel from Grape solar that can be purchased at home depot here for around $70. Model #: #GS-STAR-50W. SKU: 1001723288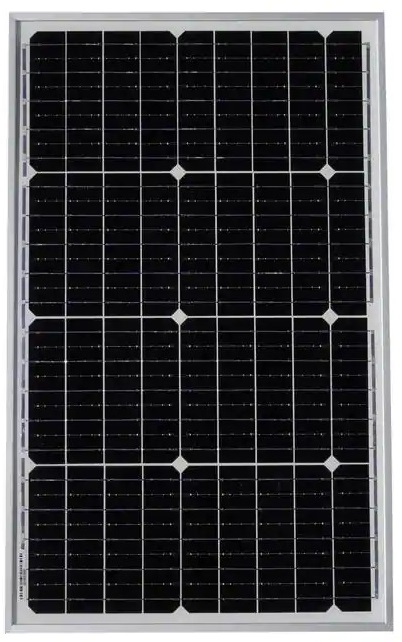 My Tank "The Beast":
The Beast is my own thousand gallon home made heat storage tank. The Beast is comprised of 3/4″ by 4x4x8 Plywood on end and reinforced with fiberglass on the inside to store around a thousand gallons of hot water. The Solar Heat is first "used up" in the domestic two 120 gallon Stainless Steel tanks and what ever heat may be left is absorbed by the zero gravity thousand gallon tank.
For more details visit my facebook post on "The Beast"
Flowmeters:
The flowmeter I use for my solar hot water setup is an acrylic flowmeter with a 304 Stainless Steel Float. The flowmeter is under thirty dollars and I suggest the FM-5IL Item part with the 0.5 – 5 gpm range and 1/2″ FBSP thread. The model number is Z-4002. You can find the same one here.

Solar Hot Water Tanks:
This is a NTI S120 which they call an ultra indirect water heater. In my system I have two in series which gives me ample hot water and some backup on cloudy/rainy/winter days. I've tried a few different tanks and these are by far the best for a DIY solar hot water system. You can find them online by googling for NTI but if not here is a link to one of their tanks: here (if link is expired just google NTI-S120). The best price I found for one was $2300 for the 120 gallon version which is a good price. I suggest you buy two to use in series. This solar heater exchanger is so important because people often overlook how to get the solar heat into domestic heat. From my experience, this is the best way. If you need to buy a tank contact me and I can help you buy one.
My System Schematic:
This is the schematic for my home solar hot water system. I've gotten rid of the pump station and now just use the TD5 closed loop circulating pump. I have 3/4″ easy flow pipes so the little pump can circulate almost twenty gallons at a very good rate!
---