Our Mission:
Hi, Rolland Riives here, to help you with your solar hot water. I've been tinkering with Solar Hot Water for the last fifteen years and I think I have something that works. I'm looking to freely share the knowledge with you, and help you avoid the mistakes I've made along the way. Together we can get your system going. I can't fix all the world's problems, but this is what I'm doing to reduce carbon emissions and lessen global warming. Even if you don't think the world is heating up or that it's an issue, DIY solar hot water is a great way to have fun and reduce your energy costs.

If you don't want to DIY it, there are professional systems available too, that information is available here, or you can call or email me, and I'll be happy to help you out.
All the plans and instructions on this site are available for free, but donations to help us spread the word and keep the site running are gladly accepted. If you so choose, we're an officially recognized 501(c)(3) charitable organization by the IRS, and any such donations are fully tax deductible; check with your accountant for details.
More Photos on Facebook. Friend me on facebook (mention you're interested in Solar Hot Water) and you can see many more photos of guilt free hot water.
Check out our new flyer:
Video Links:
If you want to view all of my Solar hot Water Videos press the link below:
https://www.youtube.com/channel/UC5eX4B4hH_727JZUm-HlOWg/videos?view=0&sort=dd&shelf_id=0
Evacuated Tubes:
The larger evacuated tubes I use in my solar hot water system are made by Micoe and the smaller units are by Sunrain. The sunrain ones are cheaper than the Micoes by about a hundred dollars and are just as good as the Micoes.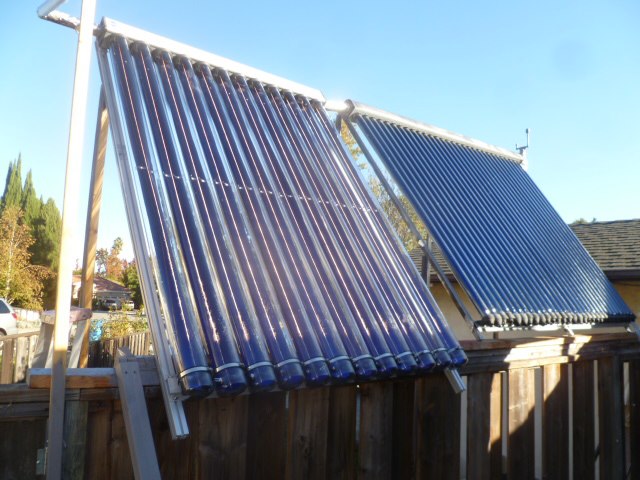 My Homemade Flat Plate:
These photos are of a flat plate that I made in order to collect heat from the sun. This is how I get the heat that makes the bulk of the heat for my solar hot water system.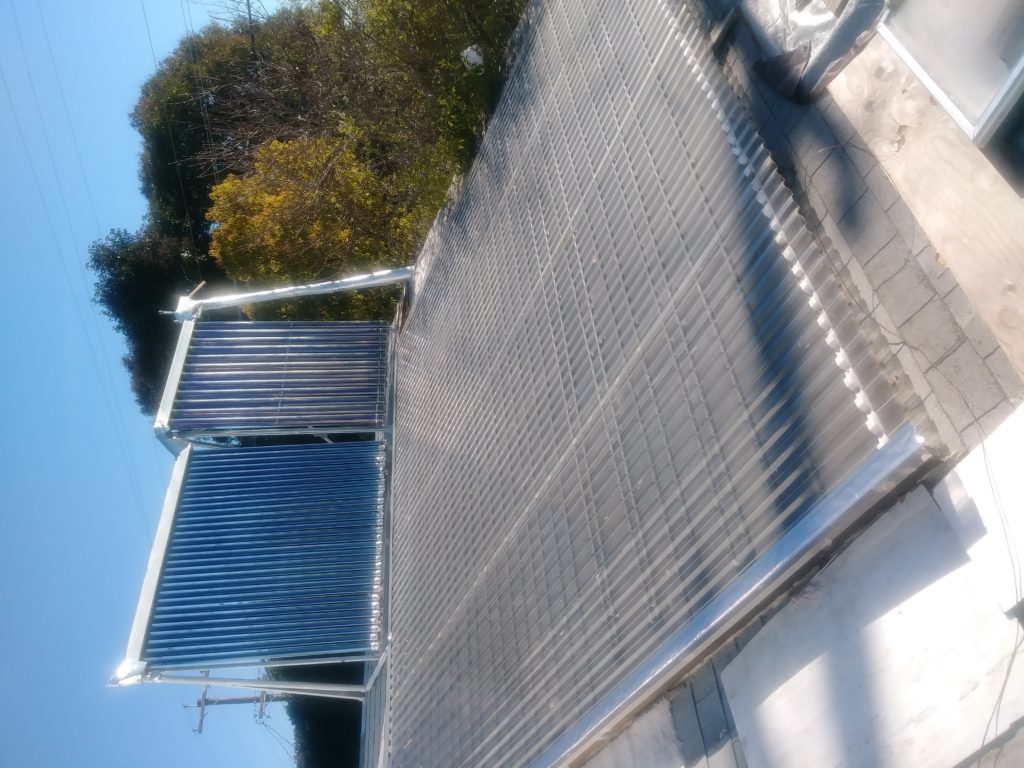 Topsflo Pump:
New And Improved! I found a better pump called the TL-C01/S/PV-C24. Specifications are: 48 Watts, 160 Farenheight, 20 Feet of head, 20 Liters/min of flow. This one is also made by topsflo and can be used underwater. I'm still testing this one to see if it's better than the TD5 but for the moment I really like it. You can still use this with the same Grape Solar Panel from Home Depot but the voltage is a little lower yet it still can power the pump. It comes with a five-foot cord to be used deep in a pool if you need that. You can buy one here.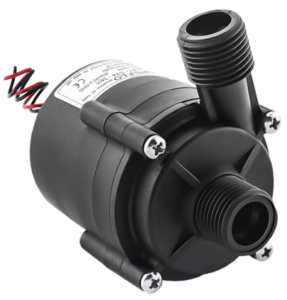 These are a couple photos of my favorite water pump brand and pump. Make sure to get the TD5 and NOT the TS5 as the TS5 is good for inside loops but for the main pump powered by solar it is too weak and you want the TD5. They're 20 volts DC and are what I use currently in my solar hot water system. You can buy one here for $140.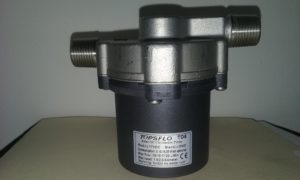 Flowmeter:
This is the flowmeter I use for my solar hot water setup. Below is an image and a pdf detailing the price I paid to acquire the piece. You can get the same one from here
Tank:
This is a HTP SSU-120 which they call a ultra indirect water heater. In my system I have two in series which gives me ample hot water and some backup on cloudy/rainy/winter days. I've tried a few different tanks and these are by the best for a DIY solar hot water system. You can find them online by googling for HTP but if not here is a link to on of their tanks: here (if link is expired just google HTP-SS120). The best price I found for one was $2600 for the 120 gallon version which is a good price. I suggest you buy two to use in series. This solar heater changer is so important because noone thinks of how to get the solar heat into domestic heat. From my experience, this is the best way.
My Schematic:
This is the schematic for my home solar hot water system. I've gotten rid of the pump station and now just use the TD5 closed loop circulating pump. I have 3/4″ easy flow pipes so the little pump can circulate almost twenty gallons at a very good rate!
---